Medicine Laboratory
The Department of Medicine Laboratory was established in 1964, when Sun Yat-sen University Cancer Center was founded. With the rapid development of the hospital, our department's academic level and the overall strength have been rising by unremitting efforts of several generations, and is recognized leading department in the field of tumor marker detection in Southern China, and successfully passed the ISO15189 evaluation by China National Accreditation Service for Conformity Assessment (CNAS) in 2018. The Department of Laboratory Medicine is a multidisciplinary organization. The Department performed over 3.58 million tests in 2019 and provides a broad array of routine and specialized clinical laboratory testing services available 24 hours/day on peripheral blood, urine, and other body fluids for patients throughout Sun Yat-sen University Cancer Center. Services include high volume chemistry, hematology and coagulation; microbiology and virology. The Department is composed of 51 staff, among them there are 2 chief technicians, 8 deputy-chief technicians, 16 senior technicians, 20 other technician. There are 2 doctors, 17 masters stduents. At present, the department has 1 master tutor, and 8 graduate students. The current director of the department is Professor Wanli Liu, and the vice director is Professor Shuqin Dai.
Facilities and apparatus
The Department is equipped with a series of advanced equipment including: Roche automatic biochemical immune assembly line (Automatic immunity analyzer Roche E602/Cobas 8000), Automatic biochemical analyzer Hitachi 008, Automatic microbial analyzer vitek-32, BACTEC 9050 automated blood culture system, BD FACSCALIBUR, Beckman Coulter Gallios flow cytometer, Hematology diagnostic testing system XN9000, Automatic coagulation analyzer CS5100, DIGEN DNA Hybridization system, Urine Analyzer IQ200, Feces Analyzer JHAFA-II, Tecan Fame ELISA system, and a Sebia automatic Electrophoresis System.
Diagnosis and laboratory techniques
There are 6 professional laboratories in our department including an Immunology Lab, a Biochemical Lab, a Clinical Lab, a Bacterial diagnosis Lab, a Molecular biology Lab and a Flow cytometry Lab.
The Immunology Lab is responsible for the detection of various immunological markers such as tumor markers, bone markers, hormones, antibodies and antigens for hepatitis, HIV, syphilis and so on. The tumor makers include AMH HE4, CEA, AFP, CA153, CA125, CA199, CA724, CA50, CA242, NSE, CYFRA211, HCG-β, PSA, CT, FERR, β2-MG, TSGF, SCC and others.
The Biochemical Lab has developed many specialized items with advanced equipment and management based on "Biochemical routine testing", such as HbA1c HPLC analyzer, specific proteins, myocardial damage markers. The Clinical Lab consists of "three routine tests", a body fluid routine test and a coagulation & hemostasis test.
The bacteria diagnosis lab undertakes all kinds of specimens of microbial cultivation, isolation, identification and drug sensitivity testing, and is responsible for the monitoring of hospital infections. The Lab has guided clinical department use antibiotics rationally, and carried out the work of biological treatment.
Molecular biology Lab is bound for the analysis of HPV subtypes, the antibodies of EB virus, small part of tumor marker and hormone.
The flow cytometry Lab detects lymphocyte immune function, leukemia immune classification, minimal residual leukemia, and all kinds of cell factors and so on.
Quality control
In order to ensure the detection result can be sent to the patients with accuracy, reliability and in time, our department has established a series of strict rules and regulations, which manage respectively in each steps before, during and after the analysis without any omission. Our Lab carries out the quality control rules and regulations strictly, trailing and controlling the instruments every day, we not only ensure the control of the quality inside the Lab, but also actively participating in the inter-lab quality control with other labs in the city, in the whole country, and get excellent grades.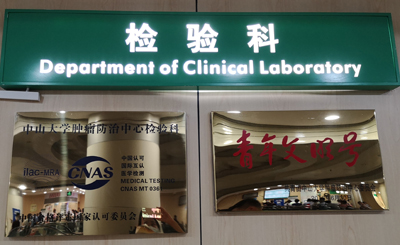 Last updated: July 2020