Department of Pediatric Oncology
In July 1989, a specialist chemotherapy pediatric oncology unit was set up at Sun Yet-Sen university Cancer Center (SYSUCC). From 2002, the Division of Pediatric Oncology was developed as one of six divisions under the Department of Medical Oncology at SYSUCC. The Department of Pediatric Oncology was founded on January 7, 2010. There are 32 pediatric patient beds.
The department is the first chemotherapy unit for pediatric cancers in the cancer centers of China. It mainly diagnoses and treats malignant tumors of children and teens under the age of 18. Some of the cancers treated include leukemia, lymphoma, neuroblastoma, brain tumors, Wilms tumors, rhabdomyosarcoma, non-rhabdomyosarcoma soft tissue sarcoma, Ewing's sarcoma/PNET, osteosarcoma, germ cell tumor, hepatoblastoma, retinoblastoma amongst others. Annually, there are more than 400 new diagnoses of children's cancer.
The department also communicates and cooperates with Hong Kong University and the Chinese University of Hong Kong's pediatric oncology departments.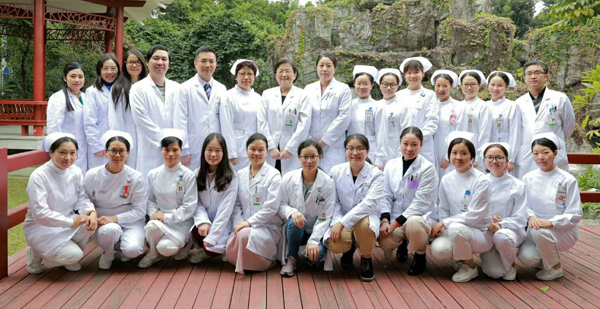 In 2019, our department and the Fifth Affiliated Hospital of Guangzhou Medical University opened the children's Cancer Cooperative Ward to fill the problem of children's cancer patients in Eastern Guangzhou. There are 30 beds and 4 laminar beds in the cooperative ward. Our department sends experienced doctors to work in the cooperative ward. The experts can also check the electronic medical records, inspection, inspection, treatments and other information of patients in the cooperative ward through a mobile app, so as to communicate the treatment of patients in time.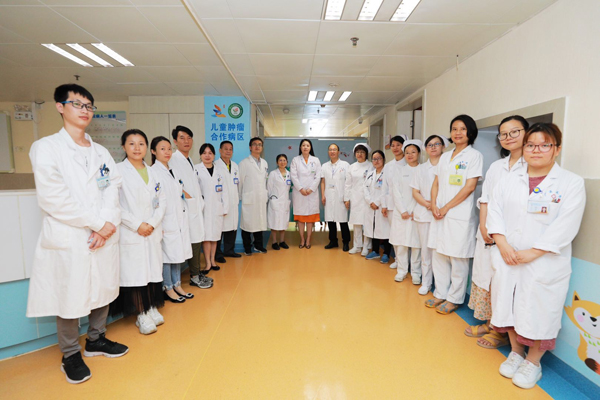 Diagnosis and Treatment
All patients are diagnosed and treated according to international guidelines. Solid Tumor diagnosis is based on pathological diagnosis using tumor biopsy, tumor markers, molecular pathology, images including CT or MRI or PET/CT and/or bone marrow examination. Leukemia and Lymphoma are diagnosed using bone marrow examination, flow cytometry, molecular diagnosis and images.
In the past 10 years, advanced treatment strategies and programs in developed countries have been adopted to treat children and adolescents with malignant tumors, which greatly improves the survival rate. The survival rate of Hodgkin's lymphoma is more than 80%, the survival rate of Non Hodgkin's lymphoma (NHL) has increased from 30% - 40% before 1998 to more than 70% - 80% at present, reaching the domestic leading level. The survival rate of other solid tumors in children has greatly improved.
Children and adolescents with solid tumors undergo multidisciplinary therapies including chemotherapy, surgery and radiation therapy. Our department is responsible for chemotherapy (prior to and post-surgery). Every week there is a multidisciplinary discussion for patients with childhood solid tumors. This multidisciplinary team includes pediatric oncologists/hematologists, pediatric surgeons, urology surgeons, radiation therapists, radiologist and/or a pathologist to help patients receive the best possible therapy through multidisciplinary discussion.
The main tumor types treated in the department include malignant lymphoma, Leukemia, Neuroblastoma, Brain tumor, Wilms tumor, Soft tissue sarcoma, Rhabdomyosarcoma, Ewing's sarcoma/PNET, Osteosarcoma, Germ cell tumor, Hepatoblastoma, Langerhans cell histiocytosis and Retinoblastoma. Malignant lymphomas and leukemia are mainly treated with chemotherapy, while most of the solid tumors are treated with multidisciplinary therapy including chemotherapy, surgery and radiation therapy.
Academic exchange
As the leading center of the Committee of Pediatric Oncology for the Anticancer Association of Guangdong Province and the Member of the leadership in Committee of Pediatric Oncology for the Chinese Anti-Cancer Association, we successfully hold a series of academic conferences and have close collaboration with pediatric hematologist/oncologists from Hong Kong, Singapore, Australia, Canada, Europe and the USA. In basic research, we focus on molecular targeted therapy, immunotherapy and the epigenetic mechanism of children's malignant tumors, and we constantly realize the translation from laboratory research to clinical treatment.
Clinical trials
We are the leading center of multicenter clinical trials for pediatric oncology in South China. Most of the new treatment methods are verified as safe and effective in the adult group before entering the children group. Some clinical trials of children's tumors are designed to improve the curative rate of recurrent / refractory tumors, some are designed for curable tumor patients, others to reduce the treatment intensity and improve quality of life. The purpose of all clinical trials is to give children more treatment options.
Ward school
The Ward School for children with pediatric cancer was established in 2019. Its goal is to help children continue interacting with teachers and peers. It helpa them rebuild their self-confidence, maintain a positive and healthy attitude, and help them to return to school and continue their studies after treatment.
The volunteer teachers are composed of staff volunteers from Sun Yat sen University Cancer Center, professional volunteers from South China Normal University and children's Tumor Rehabilitation volunteers. The volunteer teacher's lectures are mainly based on the school age, physical condition and intelligence level of the children, and subjects include Chinese, mathematics, English, physics, chemistry, biology, art, among others. Teachers are responsible for making individualized teaching plans according to the learning needs, academic level, intelligence level and health status of each child in the treatment. Teaching methods include face-to-face and online (wechat video, email.) contact. The teaching frequency is combined with patient's treatment cycle, willingness to learn and the health condition of the students to determine the best way to educate.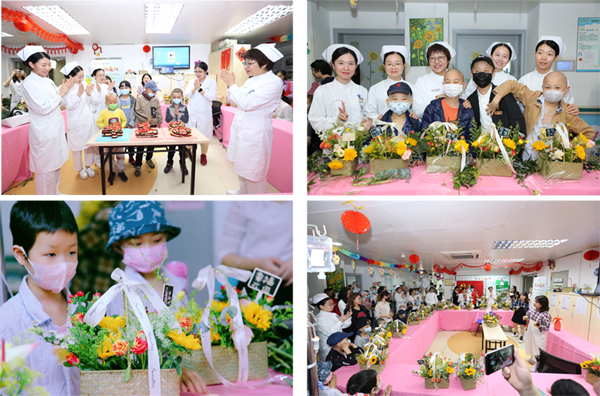 Specialists
Yizhuo Zhang, MD,Ph.D
Professor and Chairman, Department of Pediatric Oncology
Director of Department of Pediatric Oncology
Xiaofei Sun, MD
Professor, Department of Pediatric Oncology
Zijun Zhen, MD. Ph.D
Associate Professor, Department of Pediatric Oncology
Zhu Jia, MD. Ph.D
Attending Physician, Department of Pediatric Oncology
Suying Lu, MD.
Attending Physician, Department of Pediatric Oncology
Juan, Wang, MD
Attending Physician, Department of Pediatric Oncology
Feifei Sun, MD. Ph.D
Attending Physician, Department of Pediatric Oncology
Junting Huang, MD. Ph.D
Resident, Department of Pediatric Oncology
Last updated July 2020