In the afternoon of October 21, 2023, Prof. Xu Ruihua from Sun Yat-sen University Cancer Center gave an oral presentation in the
ESMO Congress 20
23
entitled "Safety and efficacy of D-1553 in combination with cetuximab in KRAS
G12C
mutated colorectal cancer (CRC): A phase II study".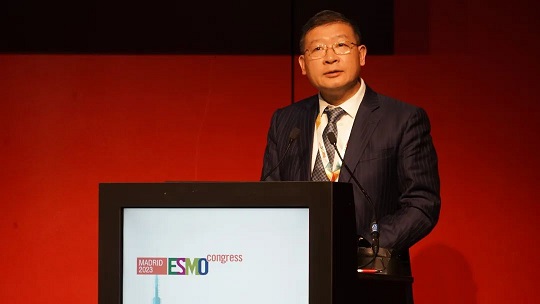 As a highly selective and potent KRAS
G12C
inhibitor, D-1553 exhibits encouraging anti-tumor activity in CRC patients with KRAS
G12C
mutations. Targeting both KRAS and EGFR pathways simultaneously may enhance the anti-tumor activity of D-1553. The ongoing multi-center phase II study is evaluating the safety and efficacy of D-1553 in combination with cetuximab in KRAS
G12C
mutated CRC.
This study included patients with metastatic CRC who progressed after standard treatment. The patient must have a KRAS
G12C
mutation and have not previously received treatment for KRAS
G12C
. The enrolled patients received twice daily treatment with D-1553 600 mg in combination with cetuximab (standard dose). The endpoints of the study include efficacy (RECIST, v1.1), safety, and pharmacokinetics (PK).
As of April 17, 2023, a total of 29 patients were included [37.9% female; median age, 56.0 years (range 32-76); 65.5% had received ≥ 3 treatments, median 3, (range 1-6); 100% had stage IV disease at baseline, ECOG PS 0/1: 24.1%/75.9%]. As of the data deadline, 20 patients (69.0%) were still receiving treatment. Median treatment duration was 5.95 (range 1.35, 9.13) months, and the median follow-up time was 6.24 (range 2.33, 9.13) months.
The overall remission rate initially observed was 51.7% (15/29), with 9 out of 15 remission cases confirmed to have remission, and 5 of them still receiving treatment. The degree of remission remains to be confirmed. The disease control rate was 93.1% (27/29). Median progression free survival (PFS) was 7.56 months (95% CI: 5.49 Months to unknown).
Treatment-related adverse events (TRAEs) of any grade occurred in 29 patients (100%), with the most common (≥ 20%) adverse events being rash, elevated AST, elevated ALT, and paronychia, most were grade 1 or 2 in severity. Three patients (10.3%) had grade 3-4 TRAEs, all associated with cetuximab. Grade 5 TRAE was not reported. 2/29 (6.9%) patients had interruption of D-1553 dose due to TRAE, 1/29 (3.4%) patients and 5/29 (17.2%) patients had reduction and interruption of cetuximab dose due to TRAE, and 1/29 (3.4%) patients had discontinuation of cetuximab due to TRAE.
The combination therapy of D-1553 and cetuximab demonstrated a tolerable safety profile, achieving a higher remission rate compared to D-1553 monotherapy. In patients with KRAS
G12C
mutant CRC undergoing severe preconditioning, the PFS phase has great potential.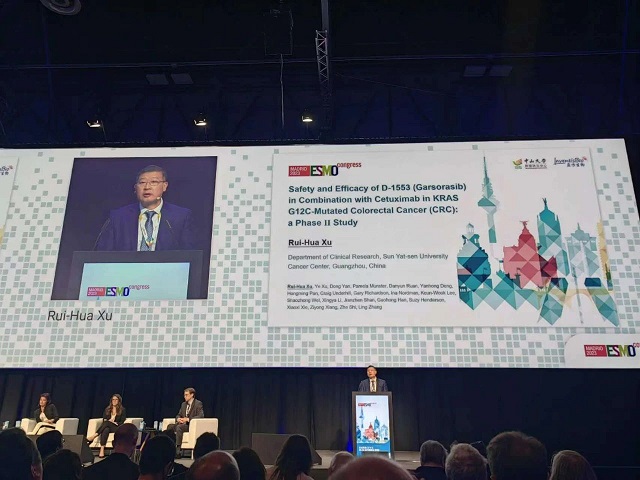 This is the first global multicenter clinical trial of KRAS
G12C
inhibitor with data from a large sample size of Chinese CRC patients. Different ethnicities were observed and analyzed in the same clinical trial, and the data follow-up was relatively mature. Therefore, the early manifestation of using KRAS
G12C
inhibitor for the treatment of CRC patients of different ethnicities can be more intuitively observed. This clinical study has enriched the diversity of KRAS
G12C
inhibitor research, providing more effective data for KRAS
G12C
inhibitors in CRC, and supporting subsequent research in Asia.
Written by: Liao Shuang, Zhai Huiwen
International Office, Sun Yat-sen University Cancer Center