The fourth edition of the International Meeting on Cancer and Blood Vessels (IMCBV) was held last week in Guangzhou, China on May 11 and 12. Sponsored by Sun Yat-sen University Cancer Center, Guangdong Provincial Anticancer Association, Cancer Communications and Guangzhou Concord Cancer Hospital, the exciting two-day event was a great success. The event brought together an array of reputable international scholars and students together to critically discuss the latest developments in the fields of cancer and blood vessel research.
Guest speakers from the UK, France, Sweden, Canada, Italy and China were all in attendance. 19 lectures were given over the two days which were split into three specialist sessions: biology, metastatic disease and treatment strategies. Standout lectures came from Dr. Claire Lugassy's unique talk on Intravascular and Extravascular cancer cell migration and metastasis: Historical Critique and New Observations, Prof. Robert S. Kerbel's lecture on Anti-vascular strategies under development to target co-opted tumor blood vessels in metastases, and Prof. Raffaella Giaviazzi's Choice of therapy regimens to accompany antiangiogenic treatments were both lively and provoked much debate.
Speakers at the 4th IMCBV
Co-chairperson of the meeting Prof. Qian (Miles) Chao-Nan said the meeting was significant not only in delivering the latest research but integral for young scholars to create new networks and contacts from other institutes to better improve their research practices and open up the possibility of future collaborations. Fellow chairperson Prof. Francesco Pezzella from the University of Oxford described the event as "truly wonderful" and that it had exceeded all expectations. He went on to say that the original meeting had started out as a simple idea and that it is now flourishing as they begin to look forward to the fifth IMCBV. Both chairpersons thanked the sponsors, speakers and attendees for their valuable role in making the conference a success.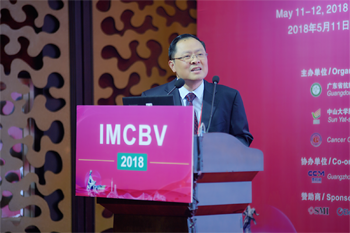 Prof. Qian (Miles) Chao-Nan taking questions after his lecture
The IMCBV is held every 18 months. The first and second meetings were held in Oxford, the third in Antwerp and now the fourth meeting in Guangzhou China. The fifth will be held in Budapest in October 2019. For a list of the conference committee members and their talk titles, see below.
Alia Komsany
Radcliffe Department of Medicine, University of Oxford, UK
Discovery of molecular signatures underlying angiogenic versus non angiogenic metastatic cancer cells
Prof. Yihai Cao
Karolinska Institute, Sweden
Mechanistic insights on antiangiogenic cancer therapy
Prof. Baohui Han
Shanghai Chest Hospital, Shanghai Jiao Tong University, China
Anlotinib as third-line treatment in patients with refractory advanced non-small cell lung cancer: a multicenter, randomized, double-blind,placebo-controlled, phase III trial
Prof. Guoquan Gao
Zhongshan School of Medicine, Sun Yat-Sen University, China
Effects and mechanism of endogenous inhibitors on cancer angiogenesis and lymphangiogenesis
Dr. Tingting Qin
Tianjin Medical University Cancer Institute and Hospital, China
Bevacizumab promotes the migration and tube-formation of endothelial cells via up-regulating CD105 expression and activating TGFbeta1 signaling
Prof. Bruno Péault
UCLA/Orthopaedic Surgery, Orthopaedic Hospital Research Center, USA
Perivascular cells in tissue scarring, regeneration and malignancy: friends or foes
Manuel Valiente, PhD
Brain Metastasis Group at CNIO, Spain
Vascular co-option in brain metastasis: molecular mediators and functional implications
Prof. Raymond L. Barnhill
Institut Curie, and the Faculty of Medicine, University of Paris Descartes, France
Histopathologic Growth Patterns in Hepatic Metastases from Uveal Melanoma:A Study of 41 Cases
Prof. Chao-Nan (Miles) Qian
Sun Yat-sen University Cancer Center, China
Vessel co-option in sentinel lymph node and its relationship with distant metastasis
Dr. Claire Lugassy
Institut Curie Research Center, France
Intravascular and Extravascular cancer cell migration and metastasis: Historical Critique and New Observations
Prof. Shi-Mei Zhuang
School of Life Sciences, Sun Yat-set University, China
VETC: A novel vascular pattern that promotes metastasis of hepatocellular carcinoma in an EMT-independent manner
Prof. Robert S. Kerbel
Biological Sciences Platform, Sunnybrook Research Institute, Dept. of Medical Biophysics, University of Toronto, Canada
Anti-vascular strategies under development to target co-opted tumor blood vessels in metastases
Prof. Raffaella Giavazzi
Mario Negri Institute for Pharmacological Research, Italy
Choice of therapy regimens to accompany antiangiogenic treatments
Karl Morten, PhD
Nuffield Department of Women's & Reproductive Health, Medical Sciences Division, University of Oxford, UK
Targeting cancer cell metabolism and better modelling the in vivo environment
Dr. Jackeline Agorreta Arrazubi
Center of Applied Medical Research (CIMA), University of Navarra, Spain
Effects of targeted therapies and immunotherapy on lung cancer blood vessels
Dr. Giorgio Seano
Institut Curie Research Center, France
Vessel co-option in glioblastoma: spy it, find the target and shoot
Dr. Jiangting Hu
Radcliffe Department of Medicine, University of Oxford, UK
The role of TRAP1 in Neoplastic Angiogenesis
Kabir Khan, PhD
Biological Sciences Platform, Sunnybrook Research Institute, Toronto, Canada
The interplay between tumour immunity and the tumour vasculature
Steve Yu, PhD
Director of Custom Animal Models and Chief Scientist at Cyagen Biosciences, Inc. China
The humanized mouse models for cancer research