On the morning of September 27, 2017, a large delegation from Fred Hutchinson Cancer Research Center including President and Director Dr. Gary Gillard made the long trip to Guangzhou, China, to sign a Memorandum of Understanding (MoU) with Sun Yat-sen University Cancer Center (SYSUCC). The five-year MoU sets out a strong collaborative future between the two institutions. Broadly, the purpose is to engage in research projects that help improve the diagnosis and treatment of cancer, infectious disease and other related diseases that are health concerns in China, the United States and internationally.
The meeting started with the signing ceremony, photographs and exchanging gifts. Professors and Vice-Presidents Qian Chaonan and Zeng Musheng of SYSUCC chaired the meeting. Prof. Qian, gave a presentation about the history of SYSUCC and the future direction of the center. This was followed by Dr. Gilliland and Executive Vice-President of Fred Hutchinson Dr. Bruce Clurman who introduced their center.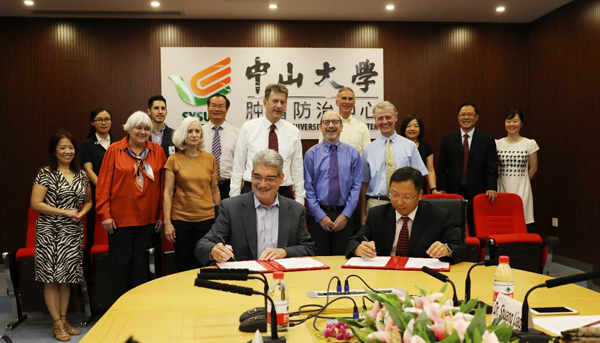 Signing ceremony Dr. Gary Gillard and Prof. Zeng Musheng
Fred Hutchinson is a cancer research center in Seattle, USA, which opened in 1975 by surgeon Dr. William Hutchinson, brother of the famous baseball player Fred Hutchinson of whom the center is named after. The center is a national and international leader in cancer research with a strong list of awards and accolades including three Nobel Prize winners.
The center also has an impressive multidisciplinary vaccine and infectious diseases division which forms an integral part of the future collaborative research projects with SYSUCC. The aim of the division is to prevent, diagnose, treat and understand infectious diseases. Understanding the role of infectious diseases may be crucial in treating certain cancers. As a result, an initial focus of the MoU is to further understand the complex relationship between the Epistein Barr-virus and nasopharyngeal carcinoma (NPC).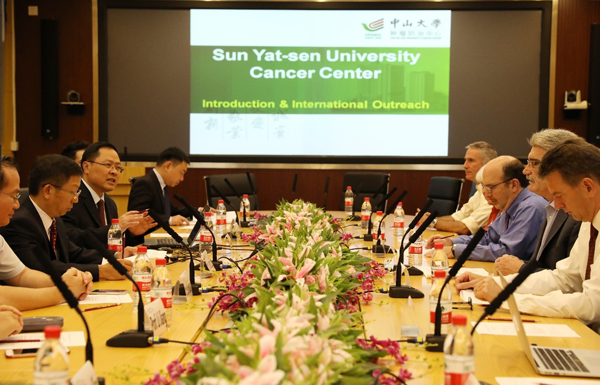 Prof. Qian Chaonan introduces SYSUCC
In order to contextualize recent research from both centers and to map out specific research questions, a series of presentations were given. Prof. Zeng Musheng gave a presentation on the mechanisms of EBV Infection in nasopharyngeal epithelial cells. Dr. Li Jiang discussed immune regulations and immunotherapy for nasopharyngeal carcinoma, and Prof. Mai Haiqiang discussed the efficacy of current treatment practices of NPC at SYSUCC as well as several clinical trials and achievements research that have been included into NCCN guidelines.
Director Dr. Denise Galloway explored pathogen-associated cancers, specifically the development of HPV vaccinations and Merkel cell polyomavirus. Dr. Edus H. Warren from Fred Hutchinson discussed global oncology with an emphasis on single cell sequencing and Senior Vice President Dr. Julie McElrath talked about the importance of vaccinations and infectious diseases.
The MoU and event marks another step in SYSUCC's growing international presence and development. The hope is that these collaborative efforts can have a meaningful impact on combatting cancer globally.