On the morning of March 16, 2021, Sun Yat-sen University Cancer Center's new Huangpu Campus was officially opened and the documentary film "Forty Years of Liao's Endeavour in Clinical Care" launched. Duan Yufei, Party Secretary and Director of the Guangdong Healthcare Commission, Chen Chunsheng, Secretary of Party Committee of Sun Yat-sen University, Chen Yong, Deputy Secretary of the Party Committee and Mayor of Huangpu District, Chen Huajiang, Director of Guangdong Provincial Archives, Liu Biju, Deputy Director of Guangdong Provincial Healthcare Security Administration, Huang Guanglie, Party Secretary of Guangzhou Healthcare Commission, Sun Xuewei, Inspector of Guangzhou Development District Administrative Committee, Xian Yinsong, Deputy Secretary of Guangzhou Development District Party Committee, Liu Shi, Deputy Director of Guangzhou Development District, Zhong Qianjun, a family representative of Ms. Liao Yueqin, the first Vice President of Sun Yat-sen University Cancer Center all attended the opening ceremony. The event was also attended by more than 200 people, including SYSUCC's leadership, medical experts and representatives and nursing staff. The ceremony was hosted by Party Secretary Wu Shaoxin and SYSUCC President Xu Ruihua.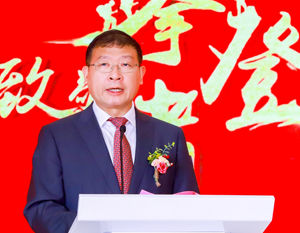 President and Prof. Xu Ruihua of SYSUCC gives his opening speech
"We are climbers of history, we are climbers of life, and we are all climbers of dreams! Tribute to the climbers!" Mr. Wu Shaoxin, said at the opening ceremony, followed by the opening video "Tribute to the Climbers", which explored a culture of diligence among the people at SYSUCC. The official opening of Huangpu Campus is the result of the unremitting contributions from people at SYSUCC from generation after generation. It is also a new starting point in the history of the hospital. On this memorable day, a documentary film "Forty Years of Liao's Endeavour in Clinical Care" was launched, detailing the biography of Ms. Liao Yueqin, the first Vice President of SYSUCC, and the founder of the hospital. In remembrance of our lineage, we have taken another important step towards the goal of becoming a world-class level cancer center.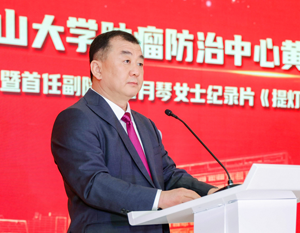 Party Secretary Wu Shaoxin addresses the guests
Party Secretary Chen Chunsheng, District Mayor Chen Yong and Director Duan Yufei delivered speeches and expressed great expectations for Sun Yat-sen University Cancer Center's Huangpu Campus. President Xu Ruihua said that, based on the national strategy of the Guangdong-Hong Kong-Macao Bay Area construction and people's demand for high-quality health services, SYSUCC will make continued efforts to improve people's health, climb all the way up, and contribute to SYSUCC's wisdom and ideas for the progress of the Healthy China program.

Official attendees of the opening ceremony
In the opening ceremony, Duan Yufei, Chen Chunsheng, Chen Yong, Chen Huajiang, Liu Biju, Huang Guanglie, Sun Xuewei, Xian Yinsong, Liu Shi, Zhong Qianjun, Xu Ruihua and Wu Shaoxin went on stage and officially opened the center, symbolizing the birth of Huangpu Hospital.
The Huangpu Campus is located in the southern area of the Sino-Singapore Guangzhou Knowledge City. It is a 104,828 square meter campus with a 600 hospital bed facility and 16 surgical rooms. The departments of Head and Neck surgery, Thoracic Surgery, Pancreaticobiliary Surgery, Colorectal Surgery, Gastric Surgery, Urology, Breast Cancer, Medical Oncology, Radiation Oncology, Nasopharyngeal Carcinoma, Hematological Oncology, Bone and Soft Tissue Surgery, Invasive Therapy, and others are housed there to meet the needs of different cancer patients along with a logistics service center to help provide a greater and more efficient public medical platform.