On April 25, 2020, a second da Vinci surgical system was put into use at Sun Yat-sen University Cancer Center, with Dr. and Vice-President Liu Zhuowei successfully completing a radical cystectomy using this advanced machine. SYSUCC is the first medical center in Guangdong Province to have two da Vinci robots.
With the assistance of the latest generation of Da Vinci robots, Dr. Liu Zhuowei was able to accurately remove the entire bladder, and perform ultra-expanded lymph node dissection, despite the patient's history of appendectomy. The surgery lasted three hours and achieved the goal of maximum tumor control. Traditional radical cystectomy using human-hand surgery, can often leave large injuries, meaning slow recovery and a number of postoperative complications. As such, it was one of the biggest challenges for urology surgeons. The DaVinci Xi ™ robot introduced this time has even greater advantages over the previous Si ™ model.
Since the introduction of the first DaVinci Si ™ robot in 2016, SYSUCC has completed more than 2,500 robot surgeries, including urology, thoracic, gynecology, colorectal, gastro, liver, gallbladder and pancreatic, and head and neck surgeries. In 2019, SYSUCC completed 765 surgeries with the da Vinci robotic, ranking top 10 in the country for da Vinci robot surgeries.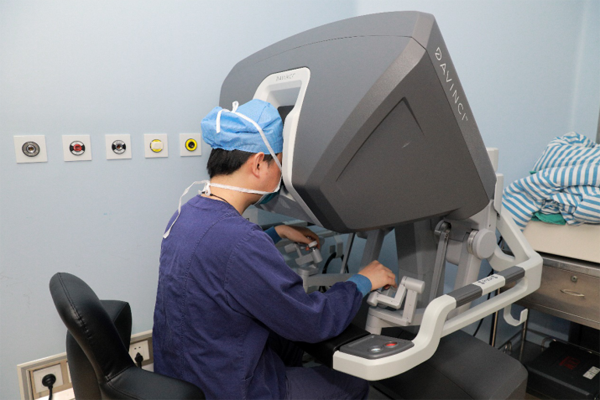 Dr. Liu Zhuowei performing a radical cystectomy using the new Da Vinci robot