The 8th Guangzhou International Oncology Conference recently drew to a close. The conference continued to uphold the purpose of "focusing on the frontiers of discipline development and strengthening academic exchanges at home and abroad". Hundreds of first-class oncologists from around the world convened with nearly 2,000 attendees coming to the annual symposium. Co-sponsored by the Guangdong Anti-Cancer Association, the US-China Anti-Cancer Association, Sun Yat-Sen University Cancer Center and Cancer Communications, the largescale event took place at the Guangzhou Baiyun International Conference Center.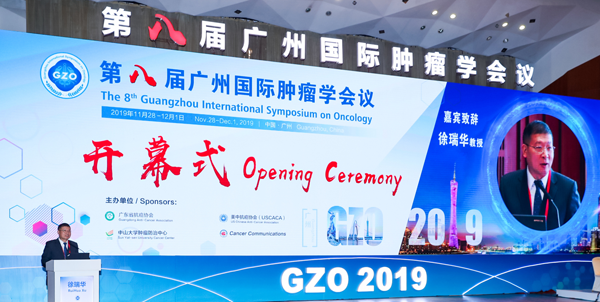 SYSUCC President and Prof. Xu Ruihua
At the opening ceremony, the chairman of the conference, President and Professor Xu Ruihua of Sun Yat-sen University's Cancer Prevention Center, warmly welcomed experts and scholars from afar and pointed out the practice of the healthy China strategy, advancing cancer prevention, and focusing on helping the people. The co-chairs of the conference, Professor Wei Zhang, and Vice President of Sun Yat-sen University Professor Xiao Haipeng also gave speeches. They highly affirmed the efforts made by the Guangzhou International Oncology Conference to build an academic exchange platform at home and abroad, expand the international perspective, and stimulate research passion. Between them, they outlined a dream of "conquering tumors and benefiting mankind" that will increasingly become a reality.
Experts invited to the main conference included Chairman of the China Anti-Cancer Association and academician Fan Daiming, Academician Yu Jinming, Academician Hao Xishan, Academician Wang Cunyu, Academician Hung Mien-Chie of China Medical University in Taichung, Academician René Bernards of the Netherlands Cancer Institute, Professor Wei Zhang of Wake Forest Baptist Comprehensive Cancer Center, Professor Emad Munir Abdel-Gabbar EI Omar of the University of New South Wales, Australia, Professor Yoon-koo Kang of Asan Medical Center in South Korea, Professor Kai-Keen Shiu of University College London in the United Kingdom, Academician Lin Dongxin and Professor Xu Ruihua from Sun Yat-Sen University Cancer Center, Professor Xu Jun, Professor Ma and Professor Zeng Musheng.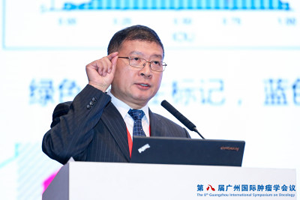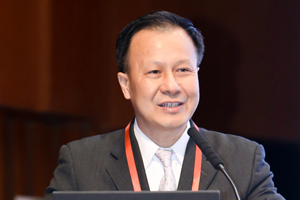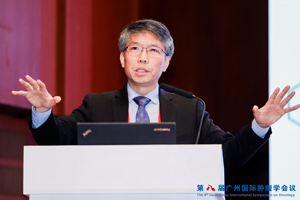 (L-R) Profs. Xu Ruihua, Xiao Haipeng and Wei Zhang
On day one, Academician Yu started with the discovery of the coley toxin in 1893 and systematically introduced the development of tumor immunology for more than a century, especially the development of immune checkpoint therapy in recent years. Academician Yu believes immunotherapy has broad-spectrum anticancer activity but low efficacy, and should be used with caution in elderly critically ill patients. He discussed how to select markers accurately to predict the efficacy and side effects, and how to combine traditional therapies to achieve the best outcomes.
Academician Hao first introduced the epidemiological profile of gastric cancer worldwide and in China. Although the incidence of gastric cancer is decreasing with the improvement of living standards, it is still one of the high-incidence cancers in China, which seriously threatens people's life and health. Gastric cancer is treated surgically, but traditional total gastrectomy and digestive tract reconstruction destroy the intestinal plexus, and a considerable number of patients will have obvious sequelae and the quality of life will be significantly reduced. In response to this problem, Academician Hao pioneered functional intervening jejunal surgery which greatly reduced the incidence of various sequelae and effectively improved the quality of life of patients.
Prof. Xu Ruihua explored how big data has now become a national strategy and healthcare has entered the era of big data. He outlined how the research and development of big data and artificial intelligence requires the platform's data processing capabilities, but more importantly, it requires the deep participation of medical professionals. He discussed recent developments on intelligence-assisted endoscopy diagnostic systems and artificial intelligence to automatically outline radiotherapy target areas and its positive impact.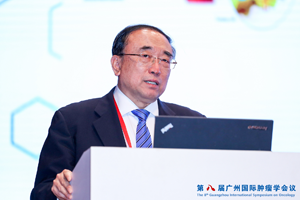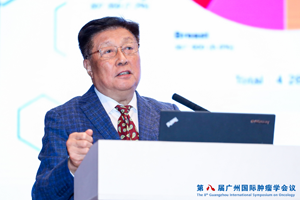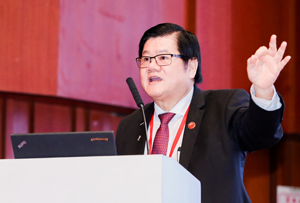 (L-R) Academicians Yu Jinming, Hao Xishan and Hung Mien-Chie
Academician Hung started with a brief introduction to the principles of PD-L1 immunotherapy, and humorously referred to PD-L1 as a "red envelope" that tumor cells (criminals) give to immune cells (police). By cutting off this "black hand", the law enforcement power of the "police" can be restored and the "criminals" can be eliminated. In clinical practice, Professor Hung discovered an interesting phenomenon: some patients with negative PD-L1 expression still respond to anti-PD-L1 treatment. Further analysis revealed that this was due to the glycosylation of PD-L1, which blocked the recognition of the corresponding antibody, leading to a false negative result. If treated with glycosidase before immunohistochemical staining, many potentially immunotherapeutic patients can be identified. This study can help clinicians more accurately target immunotherapy-sensitive populations, thereby improving treatment outcomes.
Academician René Bernards asked how to deal with tumor drug resistance -- which is an urgent problem. He proposed that on the basis of a targeted drug therapy, through further screening of targets, that we find another target drug that can cooperate with lethal tumor cells. "Treatment can solve the problem of resistance to tumors without increasing drug toxicity. At present, this treatment method has obtained preliminary ideal curative effects in hepatocellular carcinoma, melanoma and colon cancer."
Professor Wei Zhang summarized his team's research on mutations in genes such as BRCA2 and Muc16 and the relationship between these gene mutations and gene mutation load and treatment response. He also introduced the work of Wake Forest Cancer Center as a member of two national collaboration groups in precision clinical oncology research. Professor Zhang proposed a new tumor staging system, named TNMB, which combined liquid biopsy data to improve the accuracy of tumor staging.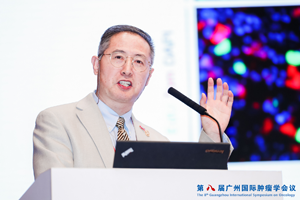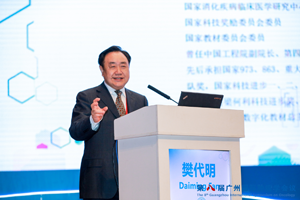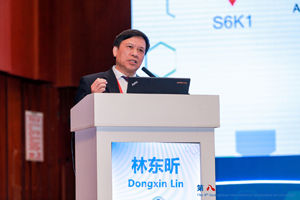 (L-R) Academicians Wang Cun-Yu, Fan Daiming and Lin Dongxin
Academician Wang Cunyu expounded the role of tumor stem cells in the occurrence, metastasis, recurrence and chemotherapy resistance of head and neck tumors. He also analyzed the changes of their effects under different HPV infection states, and provided new ideas for the treatment of HPV positive head and neck tumors.
On day two, Academician Fan Daiming pointed out that the human body is not isolated, it is a system and that in in the treatment of local conditions, we must think of its relationship with the whole body, and even with the entire external environment. As such, medicine must be integrated to truly produce social benefits.
Academician Lin Dongxin introduced a series of research done by his team around the genetics and epigenetics of pancreatic cancer,and discussed in detail the factors affecting the development of pancreatic cancer from the genome, transcriptome and epigenome levels, pointing out that pancreatic cancer is a complex disease which is the result of the joint participation of environmental factors, genetic factors and epigenetic factors.
(L-R) Profs. Ma Jun, Zeng Musheng and Emad El-Omar
Professor Ma Jun talked about the comprehensive treatment of nasopharyngeal cancer. Starting from the pathogenesis research, he introduced the precise treatment system of nasopharyngeal cancer developed by his team and a series of research results obtained in recent years.
Professor Zeng Musheng first introduced his team's research results based on a high-throughput screening platform that identified NRP1 and EphA2 as key receptors for EBV invasion into epithelial cells; at the same time, he also revealed the interaction between EB virus and the protein YTHDF1 in host RNA modification Induced immune escape mechanism, and multiple viral protein-based vaccine prototypes developed by his team. Importantly, he also provided new ideas for the prevention and treatment of the EB virus.
Professor El Omar from Australia introduced the potential impact of diversity of microbiota, metabolism and immune regulation on the occurrence and metastasis of gastric cancer, colorectal cancer and pancreatic cancer. He showed that occurrence, diagnosis, and prognosis are closely linked, and multiomics approaches for cancer clinical research targeting microbiome groups are recommended.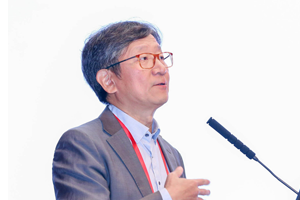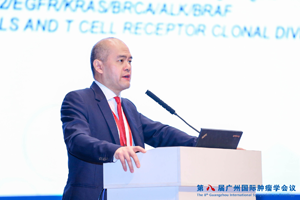 (L-R) Profs. Yoon-Koo Kang and Kai Keen Shiu
Professor Kang from South Korea discussed the effectiveness of different immunotherapeutics in the third-line treatment of advanced gastric cancer. He proposed that research work on the development of new and effective predictive biomarkers is imminent.
Professor Shiu from the United Kingdom conducted in-depth discussions on the design and evaluation of the effectiveness of colorectal cancer immunotherapy, and suggested that individualized and precise immunotherapy combined with biomarkers can benefit colorectal cancer patients.
The attention and focus for another year will now return to the laboratory in the hope of new discoveries and continued excellent research just in time for next year's meeting.