A delegation from Sun Yat-sen University Cancer Center (SYSUCC) visited the Antoni Van Leeuwenhoek center, also known as the Netherlands Cancer Institute (NKI). Members of the travelling delegation included Vice-President and Prof. Musheng Zeng, Prof. Zhu Xiaofeng, Prof. Jinxin Bei, human resources director Zhaoyang Wen and Christopher Lavender from the Office of International Collaboration and Public Relations. The purpose of the visit was twofold; to initiate collaboration with a global cancer center and to look for promising overseas talent.
Located in the historical city of Amsterdam for its scenic canals and once home to many famous artists, none other than Vincent Van Gogh, NKI was founded in 1913 and is the only dedicated cancer center in the Netherlands. Today, it is a leading cancer center in Europe and the world. According to the 2016 rankings for the most technologically advanced cancer centers in the world, NKI was number 13.
Many leaders in international research work out of NKI, namely Clinical Director of NKI Prof. Emile Voest who specializes in Molecular Oncology & Immunology, and world leader in understanding cancer genetics and winner of the 2005 Spinoza Prize Prof. René Bernards.
Following fruitful discussion between SYSUCC delegates and the leaders of NKI, both sides were eager to pursue collaboration. As such, an agreement was signed on September 18th 2019. It was a memorandum of understanding (MoU) between SYSUCC and NKI to initiate collaboration in the following areas as the basis for such partnership: i) The exchange of post-graduate students through a recognized exchange program; ii) The exchange of staff members in joint research programs; iii) The development of joint research projects, clinical trials and the related exchange of staff members and materials; iv) Invitation of expert researchers to conferences and meetings to present current scientific research findings.
MoU signing: From left to right back row: Dr Liqin Wang (NKI), Prof. Jinxin Bei (SYSUCC), Prof. Xiaofeng Zhu (SYSUCC), Director Zhaoyang Wen (SYSUCC), Christopher Lavender (SYSUCC) and Director of Operations Henri van Luenen (NKI), from left to right in the front row: Clinical Director Prof. Emile Voest (NKI) and Vice-President and Prof. Musheng Zeng (SYSUCC)
Beginning with the 8th Guangzhou International Symposium on Oncology on November 28-30, 2019 at Baiyun's International Convention Center, Prof. René Bernards will travel to the meeting to give a lecture as part of our international session.
Prof. Zeng Musheng of SYSUCC gives a lecture at NKI entitled: The key cellular factors in EBV infection of epithelial cells
The SYSUCC delegation also visited Leiden, South Netherlands, to meet Chinese members of the University of Leiden. The aim was to look for highly talented scientists who are studying abroad and to showcase the employment opportunities available SYSUCC as part of the Young Scholar Exchange Seminar, of the State Key Laboratory of Oncology in South China. The meeting attracted many members to an evening dinner where the professors discussed the future and vision of SYSUCC's expansion and the need for even greater talented individuals to take the center forward.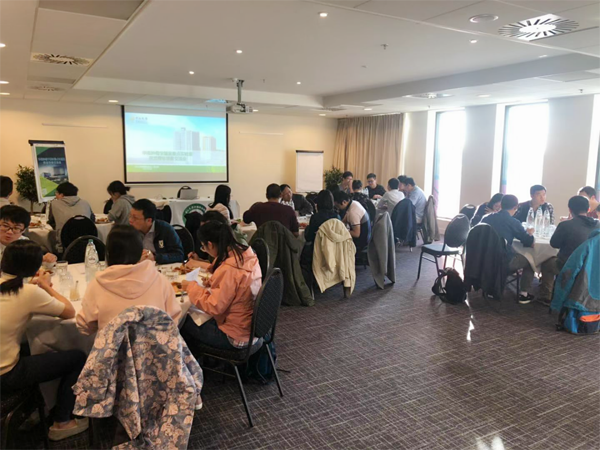 Chinese students from the University of Leiden at the evening dinner for the Young Scholar Exchange Seminar, of the State Key Laboratory of Oncology in South China