On the afternoon of May 31 (local time), Professor Jun Ma of Sun Yat-sen University Cancer Center (SYSUCC) was invited to give an oral presentation on a new treatment modality for locoregionally advanced nasopharyngeal carcinoma at the American Society of Clinical Oncology (ASCO) annual meeting. His study won the "Best of ASCO" award, and was co-published in The New England Journal of Medicine, the best journal in the field of Clinical Medicine (impact factor 79.258), on the same day. This is the first oncology research led by mainland Chinese scholars published in this journal.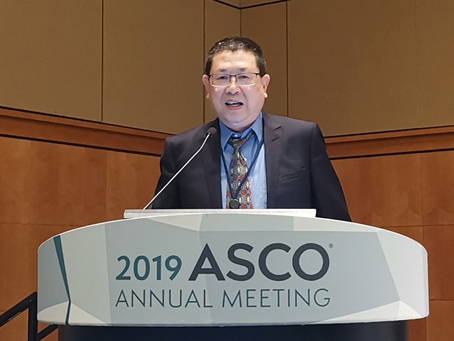 Prof. Jun Ma at ASCO
The incidence of nasopharyngeal carcinoma in China is highest in the world. According to the statistics from the World Health Organization, nearly half of the world's nasopharyngeal carcinoma occurs in China. About 70% of patients are diagnosed with the locoregionally advanced disease at the time of presentation, and the survival rates of these patients are poor. For decades, investigators from all over the world have tried different treatment modalities to improve the survival rates.
Dr Jun Ma has been working on this disease for almost 30 years. In 2013, he initiated a randomised controlled phase 3 clinical trial to investigate it using gemcitabine and cisplatin induction chemotherapy before concurrent chemo-radiotherapy in patients with newly-diagnosed locoregionally advanced nasopharyngeal carcinoma. This trial enrolled 480 patients from 12 cancer centers in China. The results showed that the additional induction gemcitabine and cisplatin significantly improved 3-year recurrence-free survival (from 76.5% to 85.5%) and overall survival (from 90.3% to 94.6%). Moreover, induction gemcitabine and cisplatin were well-tolerated. A total of 96.7% of the patients completed the protocol-defined three cycles of induction chemotherapy and only 5% of patients experienced grade 4 adverse events during induction therapy and the risk of late toxic effects did not increase.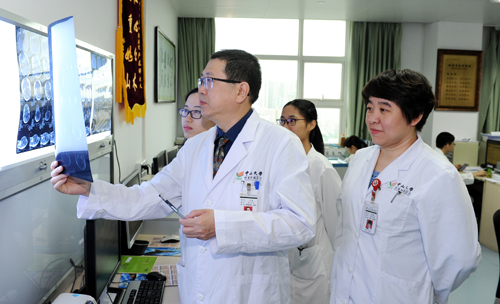 Profs. Jun Ma and Ying Sun
On June 1, 2019, SYSUCC held a press conference in Guangzhou. Mr. Shaoxin Wu, Secretary of the Party Committee of SYSUCC, highly endorsed Prof. Jun Ma and Ying Sun's research achievements released at the latest ASCO meeting and in The New England Journal of Medicine. Mr. Wu said, it demonstrates their team's passion and efforts in fighting against nasopharyngeal carcinoma and leads SYSUCC to be recognized by the world with their great contributions to cancer treatment. In the future, SYSUCC will continue to make greater contributions in the "Healthy China Program", with courage and diligence to make people healthier.