From December 1-3, 2017, the 6th Guangzhou International Symposium of Oncology was held in Guangzhou at the Baiyun International Convention Center. The symposium is co-organized by the Guangdong Provincial Anticancer Association, the US Chinese Anti-Cancer Association (USCACA), Sun Yat-sen University Cancer Center (SYSUCC), and the Chinese Journal of Cancer. Over 1,500 scientists, including academicians and top oncologists from all over the world came to Guangzhou to attend the conference.
Esteemed guests included secretary general of the Chinese Anti-Cancer Association, Prof. Ying Wang, President of Sun Yat-sen University Cancer Center Prof. Ruihua Xu and Prof. Qingyi Wei, the Chairman of the US Chinese Anti-Cancer Association who delivered the opening remarks. The opening ceremony was chaired by SYSUCC Vice-President Prof. Chaonan (Miles) Qian.
The main conference hall
In Prof. Ruihua Xu's address, he expressed a warm welcome to all the guests and praised the symposium as an influential oncology conference co-organized by US Chinese Anti-Cancer Association, which "is devoted to sharing academic knowledge and research achievements with top scientists and oncologists from all over the world".
The conference is one of the highest-level international conferences of oncology in China, its topics cover clinical practice, primary and translational research, and multi-disciplinary treatment. Its focus is on delivering the latest advances in oncology and increasing international scientific exchanges for making great contributions to cancer treatment development. It is a great chance for experts from different diseases and different parts of the world to join together and exchange ideas. The meeting committee sees the event as "a platform for people to gain international perspectives and cutting-edge knowledge, to enhance professional competency, and to promote friendship."
Many Chinese academicians and leading experts from South-east Asia and Europe were invited to share their latest research achievements. Main session speakers included Chinese academician from the National Center for Translational Science Prof. Zhinan Chen, Chinese academician from Shanghai's No. 9 People's Hospital Prof. Zhiyuan Zhang, Chinese academician from Shandong Tumor Hospital Prof. Jinming Yu, Prof. Dongxin Lin and Prof. Ruihua Xu from SYSUCC, Prof. Cunyu WangUS academician from the University of California Los Angles, Prof. Qingyi Wei from Duke University and the Chairman of the US Chinese Anti-Cancer Association, Prof. Ronald A. DePinho and Prof. Paul J. Chiao from MD Anderson Cancer Center, Prof. Robert N. Eisenman from Fred Hutchinson Cancer Research Center, and Prof. Dirk Schadendorf, Prof. Martin Schuler, Prof. Sven Brandau and Prof. Ulf Dittmer from the University Hospital Essen, Germany and, President of National Cancer Center of Singapore Prof. Soo Khee Chee. The speakers shared their latest research findings in a range of areas including; personalized medicine, artificial revolution in medical treatment, translational medicine, cancer molecular-biology and liquid biopsy.
In addtion to two days of main sessions, there were also 16 parallel sessions for different cancer diseases, focusing on multi-disciplinary diagnosis and innovation. At the same time, the conference encouraged multi-disciplinary standardized treatment for certain cancer diseases to benefit more patients.
President of SYSUCC and Prof. Rui-hua Xu
Prof. Ruihua Xu concluded his welcome note by saying: "In this new era, the Chinese national strategy includes offering higher-quality healthcare services for the public", making specific reference to the 19th China National Congress Report on the incidence of the most severe diseases and the need for them to be controlled. He went on to say, "oncologists should hold a great sense of responsibility for cancer treatment and prevention" and that Guangzhou International Symposium of Oncology serves as a great platform for oncologists worldwide to exchange knowledge and explore collaboration opportunities, under the Healthy China Strategy with the goal of conquering cancer and benefiting the people.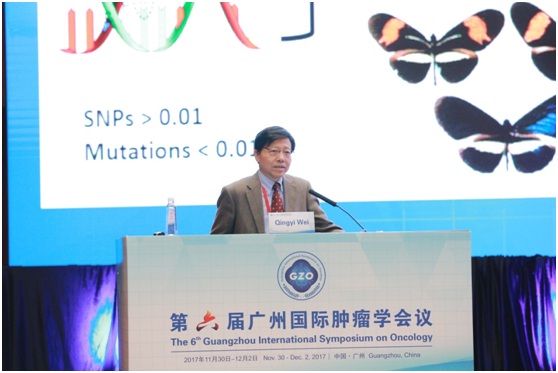 Prof. Qingyi Wei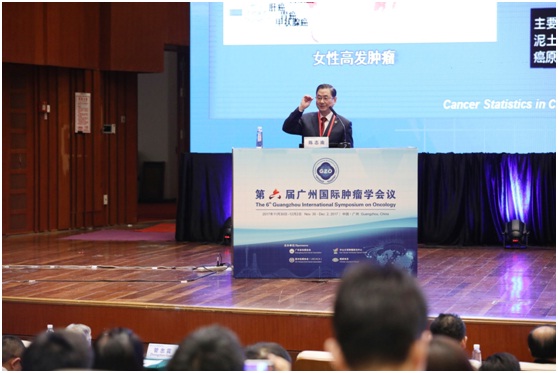 Prof. Zhinan Chen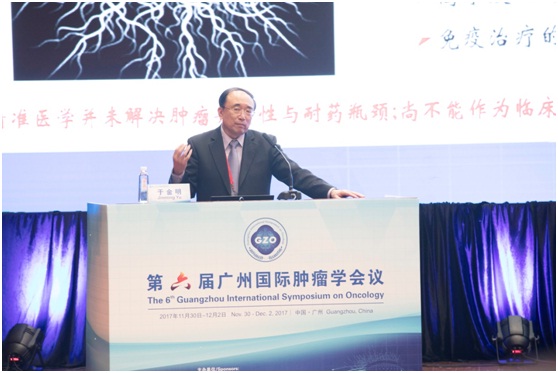 Prof. Jingming Yu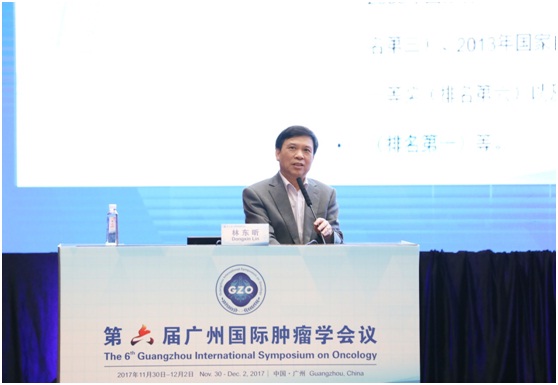 Prof. Dongxin Lin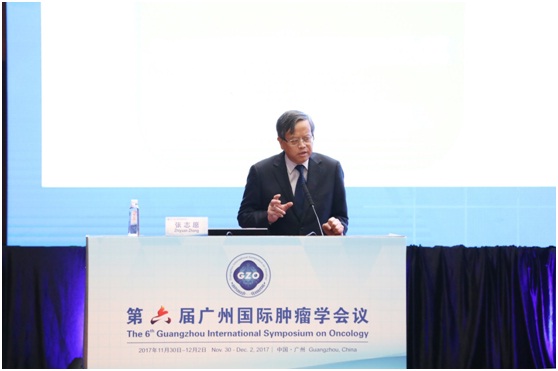 Prof. Zhiyuan Zhang
Prof. Cunyu Wang
Prof. Ronald A. DePinho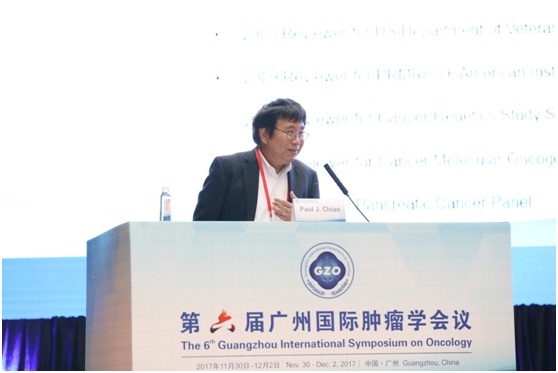 Prof. Paul J. Chiao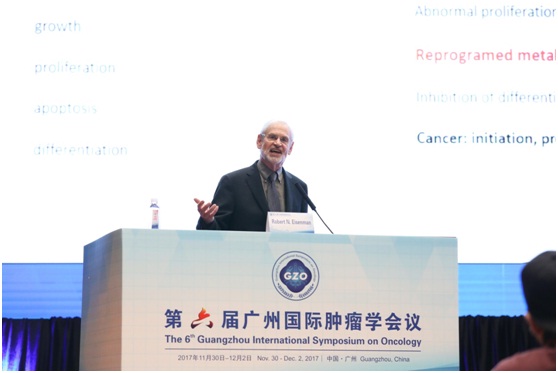 Prof. Robert N. Eisenman
Prof. Dirk Schadenorf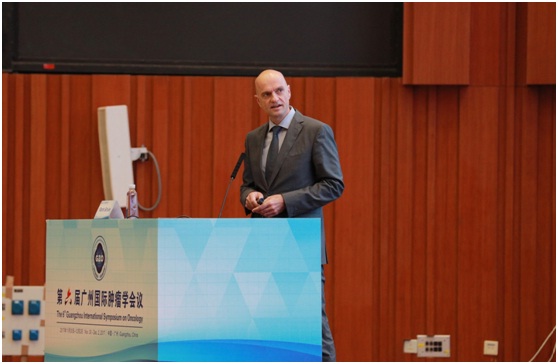 Prof. Martin Schuler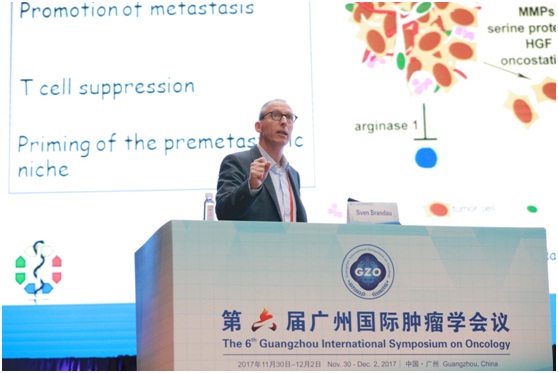 Prof. Sven Brandau
Prof. Ulf Dittmer
Prof. Soo Khee Chee