As part of strengthening the collaborative relationship with sister institution MD Anderson Cancer Center and Sun Yat-sen University Cancer Center's (SYSUCC) commitment to providing high quality teaching, Professor Chaan S. Ng and Mariann Crapanzano JD, MPH made their second visit to SYSUCC within a year. Over a two-week period, Prof. Ng gave morning and afternoon tutorials to small a group of residents. Whilst Mariann hosted a mini lecture series and workshops on Scientific Publishing with Prof. Ng also in attendance to offer his valuable insight as an author and former reviewer.
Building on his previously successful visit to the center back in June 2016, Prof. Ng once again worked in the Department of Medical Imaging alongside Professor Xie Chuanmiao, Director of Medical Imaging and Dr. Ai Fei. With the residents, he discussed a range of methodologies for reading CT and MR imaging. Encouraging an open discussion, Prof. Ng pushed the students to interpret the most complex cases, quizzing and probing for their rationales.
When asked about his experience, Prof. Ng said the aim of this year's tutorials were to foster a sense of critical thinking. "My key message to them is: find the radiological abnormalities and come to a radiological view. In other words, what does the imaging tell you about what the diagnosis is likely to be, and only then, interrogate the patient's history and other information. What I am trying to teach them really, is their value as a radiologist is about picking out the abnormalities in the film and dissecting that and coming to a view about what the film tells you." One of the techniques he advocated was to consider the scans independently of any other material. "This approach is somewhat different, other people look at the history, the laboratory work, the most likely diagnosis and so on, and then look at the images superficially, which then confirms those views. I take the opposite view. This is my own personal view, a very critical view of how you can analyze film."
Prof. Ng also briefly discussed the overall radiological approaches and training practices prevalent in the USA and the UK, as well as things to consider when report writing to best convey your analyses to clinical colleagues. Dr. Bijay Bhandari from the department described the sessions as intriguing and challenging. He also praised Prof. Ng's oratory skills and one-to-one methods.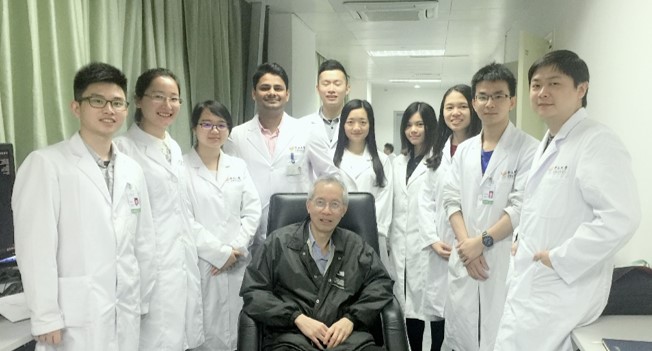 Prof. Ng (center) and residents from the Department of Medical Imaging
Ms. Crapanzano's three-part lecture series and accompanying workshops on Scientific Publishing explored many of the fundamental aspects of scholarship, including techniques to improve one's writing, and ultimately, publication prospects. Drawing on her rich experience of 18 years in scientific publishing and as Managing Editor for the past 14 years of the journal Head and Neck, she dissected the art of scientific writing.
Starting with Manuscript Preparation – Anticipating Your Reader, Ms. Crapanzano focused on the cultural complexities between North American English and Chinese writing styles and how one must be conscious of such when writing for an international readership.
Following each lecture, two workshops took place for authors who were about to submit to a journal or had recently received feedback requesting revisions for resubmission. Prior to the workshops, Ms. Crapanzano and Prof. Ng reviewed the manuscripts. During the sessions, they were then able to provide constructive personalized feedback. Critique centered on a range of aspects within scholarship and scientific practice. They helped to narrow down ambiguity, anticipate methodological and scientific concerns, and improve rhetorical styles.
The second of Ms. Crapanzano's lectures What Do Reviewers Look For? elucidated the peer review process. Looking at examples of real anonymized reviewer comments the audience were able to see some typical and atypical of assessments of manuscripts as they moved through the peer review process.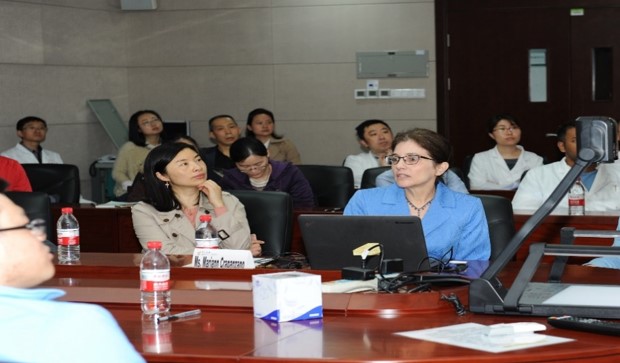 Dr. Gan Kejian (left) Mariann Crapanzano (right)
Responding to Reviewer Comments -- her final lecture, Ms. Crapanzano explored the difficulties in defending one's manuscript when revisions have been requested for further consideration. One of the most salient points examined was knowing which battles to fight and concede. She also discussed other crucial elements concerning cordial correspondence.
All of the lectures and workshops were met with great gratitude. Jin-lin Huang, a senior resident from the Department of Pathology commended the lectures for their reflexive approach in examining the cultural differences between North American English and Chinese. Master student Chaobin He, an attendee for both the lectures and workshops praised Ms. Crapanzano for explicating the inner workings of the review process. Li Yin a head and neck surgeon said the most enjoyable part was the opportunity to ask questions face-to-face with a real editor.
When asked about what she hoped to achieve with her talks, Ms. Crapanzano said: "Publishing in the scientific community is increasingly important in today's competitive world and there is somewhat of an international format and standard that has been developed, and the goal in that format crosses cultural and linguistic lines. So, the goal of these lectures and workshops were to develop the concept behind that for the physicians and scientists here at SYSUCC."
During her time, Ms. Crapanzano also visited the Chinese Journal of Cancer (CJC) reuniting with Editor Dr. Gan Kejian who previously spent time at MD Anderson and the journal of Head and Neck. Ms. Crapanzano extolled the CJC for their "tremendous growth over the past 6 or 8 years" and their growing international presence.
Finally, when asked whether they would like to come back to China and SYSUCC in the near future both Prof. Ng and Ms. Crapanzano said they would be delighted. They also wished to thank all of the guests and staff involved at SYSUCC, especially Vice-President Prof. Qian (Miles) Chaonan and Prof. Xie Chuanmiao for their vision and ability in bringing these sessions to life.